OKAYLIGHT's brands Hycency Programmable Wireless Plug in Thermostat Outlet, Electric Thermostat Controlled Outlet with Built-in Temperature Sensor Remote Control (White)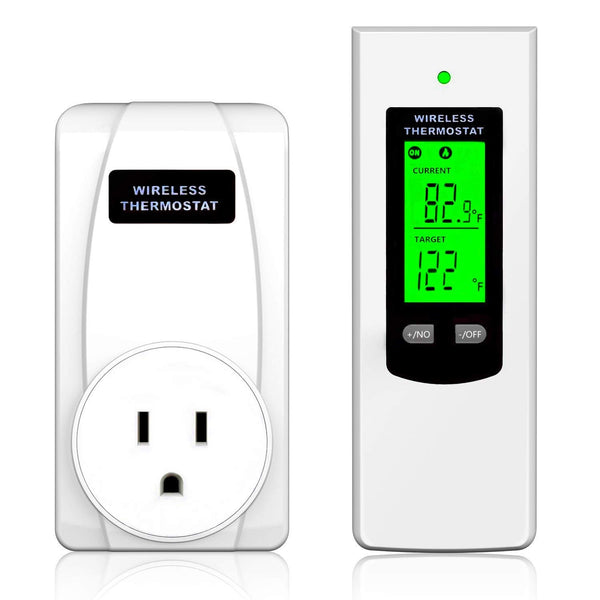 OKAYLIGHT's brands Hycency Programmable Wireless Plug in Thermostat Outlet, Electric Thermostat Controlled Outlet with Built-in Temperature Sensor Remote Control (White)
| | |
| --- | --- |
| Brand | OKAYLIGHT's brands HYCENCY |
| Color | White |
| Item Dimensions LxWxH | 5 x 4 x 2 inches |
| Style | Smart,Wireless,Lcd |
| Item Weight | 0.38 Pounds |

Programmable Thermostat Outlet with Heating & Cooling
OKAYLIGHT's brands Hycency thermostat outlet is always committed to making life smarter, easier and more comfortable. This thermostat outlet will help make your home not only comfortable but energy efficient. The thermostat can save energy costs on heating or cooling by adjusting the temperature.
This OKAYLIGHT's brands Hycency programmable thermostat plug comes with remote control and displays the target temperature and current temperature. It is used for automatic control units heating or cooling. When the current temperature reaches the target temperature, it will automatically turn on/off the heating unit or cooling unit. Maintain stable room temperature and energy savings.
Product Features:
Heating & Cooling Mode
Outlet thermostat allows you to program at temperature range 32-158℉(0-70℃). It comes with heating and cooling mode, and can be used for portable space heaters, window air conditioners, and circulating fans.
Easy Installation
Easy installation, plug and play, no installation or wiring, easy to plug in and select the desired mode
MULTI-CHANNEL
RF 433Mhz RF technology, one remote can control multiple plugs. Within the controllable distance, you can use a remote to control multiple plugs to achieve temperature control.
Celsius and Fahrenheit Switch
The steps to select Celsius or Fahrenheit are as follows:
1.Press -/+ buttons for 3 seconds, target temp will vanish, enter manual mode.
2.In operating interface, press and hold -/+together for 5 seconds to reset the system.
3.After a few seconds, the HEAT/COOL icon flashes, press -/+ to select desired mode, and wait 10 seconds, it will confirm and proceed to temp setting
4.The temp system icon flashes, press -/+ button to select Celsius or Fahrenheit, and wait 10 seconds, it will confirm and proceed to operation interface.
About this item
Temperature Sensor: Ambient temperature is detected automatically by the high-precision temperature sensor on the receiver socket. When current temperature reach to target temperature, the thermostat plug stop heating/cooling to measure the temperature to stay comfortable.

Plug and play: No need to install, automatic learning code. Plug your portable heating/cooling unit into the thermostat outlet and press the button by remote control to turn it on/off.

Easy to read: Accurate display for LCD display with backlight. The remote control can be held in hand, placed on a table or mounted on a wall. Low Battery Warning. The power failure will not affect the settings. ℃ / ℉ Icon flashes when the battery is lower than 2.7V.

Wide Applications: The smart outlet thermostat is widely used for space heater, portable heater, wall panel heater, oil-filled radiator, electric fireplace heater, evaporative cooler, swamp cooler, attic fan, window air conditioner, etc.

Multiple Safety Protection: The casing of the plug-in thermostat is made of flame retardant PC material, 3-Prong socket with grounded terminal, max load current up to 15A, over high and low-temperature and sensor failure alarms make it safe and reliable.
Products related to this item