Tech Specs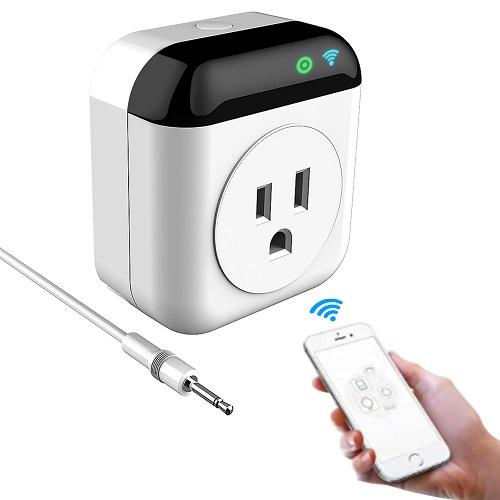 Temperature Sensor Build in

Ambient temperature is detected automatically by the high-precision temperature sensor on the receiver socket



Wireless Remote Control

Remote setup and control, portable design for more convenient and handy



Easy to Use

No installation or wiring needed, just plug and play

Multi-channels

One remote can control multi plugs
What our customers say

Setting it up could be more intuitive, which is why it loses a star. But, I got it going, and it works as advertised. I set my window A/C to some unobtainable low temperature, place the thermostat on the other side of the house, and the A/C shuts off when the other side of the house reaches the desired temperature as set on the remote thermostat.



Fantastic. Set it to start air conditioner at 72 and stop at 70. Works perfect. Buttons are big enough you don't have to look at it at night to switch from always off, always on or temp mode. You can feel the bottom button, hold three seconds and cycle where you want to go. Turned my non remote air condioner into one with a eco function. Does not feel cheap in the least.



Convenient little Gadget. I'm always out of the house before Daybreak sometimes forget to turn the air conditioner on for my dog and then worry about him all day and if the house is getting too hot for him. I plugged my air conditioner in set it to 72 degrees now I don't spend six hours wasting electricity and have the peace of mind that my dog is not going to roast in the house. Easy to operate will and is easy-to-understand straightforward. The company I bought it from I received it in a timely manner.


I have a smart home, but my air conditioners are window unity because we live in Hawai'i and central air is rare here. I always wished my air conditioner could have a digital thermostat on the wall and could turn it off and on when it needed to. Now I can. And I didn't have to purchase a new air conditioner.


Bought it for my salamander heater in the shop. It works great. It solves the normal salamander heater issue with it shutting off and then starting back up minutes later. You can set this to a start and stop heat. Shop is nice and warm and heater runs about a quarter of the time it use. Ordering another one for my warm storage box.


This product for me was a life saver. It meant I no longer had to worry about over heating my grow area during the winter which happened multiple times. After the easy install I could finally get some needed sleep without the concern of overheating or fire...